Major broadband and wireless phone providers are rushing to reconnect thousands of residential and business customers who were disconnected after a large-scale wildfire broke out on the Hawaiian island of Maui earlier this month.
The fire destroyed or seriously damaged key infrastructure that disrupted land-based cable TV and broadband service, and triggered widespread power outages that knocked all cellphone towers offline.
As more infrastructure comes online, service providers are stepping up to offer relief to customers and business impacted by the Maui wildfires, which includes waiving fees, distributing power-related accessories, offering service credits and spinning up temporary infrastructure to get customers back online.
Here is a look at how major service providers are offering assistance to customers affected by the Maui wildfires: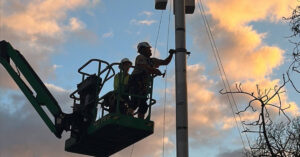 AT&T
AT&T says it is offering postpaid and AT&T Prepaid customers unlimited talk, text and wireless data through September 7 if their billing address includes any of the following ZIP codes:
96708, 96713, 96729, 96732, 96733, 96742, 96748, 96753, 96753, 96757, 96761, 96763, 96767, 96768, 96770, 96779, 96784, 96788, 96790 and 96793.
Prepaid customers with billing addresses in the affected ZIP codes will not be charged if their renewal date is on or before September 7, though they may still receive billing-related alerts as if they were charged.
AT&T is waiving activation and upgrade fees for new smartphones and postpaid plans purchased at its AT&T retail store in Kahului through September 7.
The company is also offering a free AT&T Prepaid device with purchase and activation of any AT&T Prepaid phone plan at the AT&T retail store in Kahului. All customers are eligible to receive a 25 percent discount off power accessories, including cables and adapters, purchased at the retail store in Kahului. Those offers are good through August 31.
AT&T is also installing mobile wireless towers to provide connectivity to residential, business and FirstNet customers. First responders with FirstNet service and related devices have priority access to AT&T 4G LTE and 5G wireless networks.
---
Charter (Spectrum)
Charter Communications offers residential and small business service under the Spectrum brand. This week, company officials confirmed Spectrum was unlocking more than 8,000 out-of-home WiFi access points across the Hawaiian Islands to help first responders, residents and businesses connect to reliable broadband service in the immediate aftermath of the Maui wildfires.
Those who want to take advantage of the free service simply need to connect their devices to the Spectrum public WiFi access point, then choose "free trial" and follow the instructions from there. A map of Spectrum public WiFi points is available by clicking or tapping here.
Additionally, Charter has launched free Spectrum-brand WiFi access points at four volunteer centers and shelters: the War Memorial Gymnasium, Mayor Hannibal Tavares Community Center, the War Memorial Stadium, and the Iron Maehara Stadium.
---
DirecTV
DirecTV is pausing all credit and collection efforts for residential and business customers with billing and service addresses in the following ZIP codes:
96708, 96713, 96729, 96732, 96733, 96742, 96748, 96753, 96757, 96761, 96763, 96767, 96768, 96770, 96779, 96784, 96788, 96790 and 96793.
DirecTV is also providing automatic bill credits to residential and business customers with billing and service addresses in two Lahaina ZIP codes (96761 and 96767). The credits cover 100 percent of customer bills.
DirecTV says it is working with the Information Technology Disaster Resource Center (ITDRC) to offer satellite-based television service to residents in shelters across Maui, and has donated around 1,000 emergency weather radios through the Satellite Broadcasting & Communications Association Foundation, so affected residents can receive emergency and community-related information through AM and FM radio stations.
---
Dish Network
As of Thursday, Dish Network has not provided any specific information on its wildfire relief efforts in Maui. Customers whose equipment has been damaged or service disrupted by the wildfires should contact Dish Network at 1-800-333-DISH (1-800-333-3474).
---
Hawaiian Telcom
Infrastructure used by Hawaiian Telcom for its land-based broadband Internet and phone services was damaged or otherwise heavily impacted by the Maui wildfires, and the company says it is still working to restore service to all affected residential and business customers there.
Hawaiian Telcom says it is coordinating with various government agencies and local community officials to provide phone and community WiFi services in a number of locations, including the War Memorial Gym in Wailuku, Kihei Gym and Hannibal Tavares Center in Pukalani.
Customers can call Hawaiian Telcom at 1-808-643-6284 if they have support-related questions or requests.
---
T-Mobile
T-Mobile has established several mobile wireless towers to connect residential and business customers to its 4G LTE and 5G networks. The company is also working with satellite broadband provider Starlink to offer free WiFi access at Kapalua Airport, Hyatt Regency Maui and at the American Red Cross volunteer housing center in Maluhia.
All T-Mobile customers in Maui — including those on prepaid plans, Metro by T-Mobile subscribers and Assurance Wireless subscribers — will have free access to unlimited talk, text and wireless data service through the end of August.
T-Mobile Community Support team members have visited several locations throughout Maui — including the Church of Jesus Christ of Latter-Day Saints in Kahului, the Hannibal Tavares Community Center in Makawao and the War Memorial Complex in Wailuku — where they donated hundreds of devices, power-related accessories and other supplies to customers and non-customers afflicted by the Maui wildfires.
T-Mobile customers throughout the country can make financial donations to the American Red Cross through the T-Mobile Tuesdays app on Apple iOS and Android-powered devices, or via the T-Mobile website by clicking or tapping here.
---
Verizon
Verizon is working with various stakeholders to activate mobile wireless towers that will connect residents and businesses to its 4G LTE and 5G networks, and some of these temporary towers are already operational.
Verizon says customers of prepaid brands — including Net10, GoSmart, Page Plus, Safelink, Simple Mobile, Straight Talk, Tracfone, Total by Verizon and Walmart Family Mobile — with Maui billing ZIP codes and renewal dates between August 10 and August 13 will have their service automatically extended by one additional week.
Verizon is also offering unlimited calling, texting and wireless data to all prepaid and postpaid customers with Maui zip codes between August 10 and August 23. The offer is valid for both residential and small business customers with 50 lines or fewer on their account.
Additionally, Verizon is deploying satellite-based WiFi hotspots to evacuation centers throughout Maui, to help affected residents connect to the Internet, so they can receive information and communicate with loved ones. Verizon is also mobilizing portable satellite and wireless network equipment to support the efforts of first responders on the island.
---
If you would like to help those impacted by the wildfires in Maui: