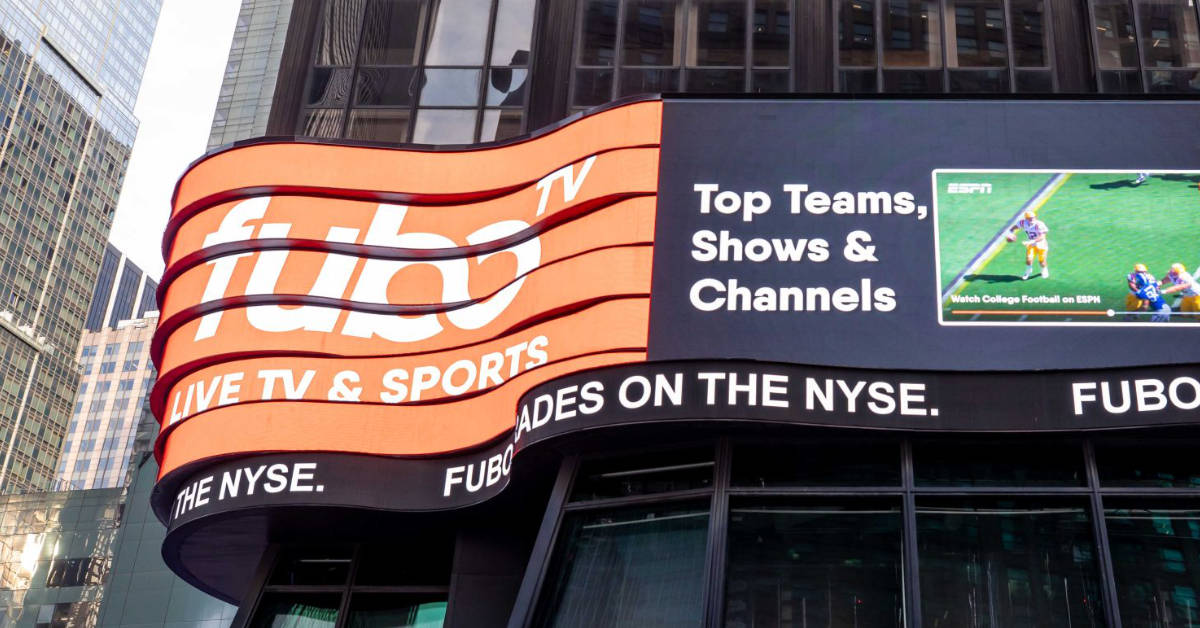 A subscriber of sports-centric Fubo is suing its parent company over alleged violation of a federal consumer privacy law.
The case, brought by Illinois resident Ne'Tosha Burdette, accuses Fubo of collecting personal identify information about its subscribers and what they watch on the service, then passing that data along to advertisers in order to target specific consumers.
The lawsuit was originally filed in Illinois state court in August, but was moved to federal court last month. Burdette has demanded a jury trial and is seeking class action status for her case.
The complaint says Burdette signed up for a paid subscription to Fubo within the past two years, and watched live TV channels on the service on a regular basis. While watching Fubo's live television channels, she regularly noticed advertisements — which didn't come as a surprise, since most of Fubo's programming originates from broadcast and cable television.
What did surprise Burdette were the types of ads Fubo was serving up, which appeared to be targeted to her based on what she was watching. Burdette refutes ever giving Fubo permission to collect or share records of what she watched.
"To this day, Plaintiff is unaware of the status of her [personal-identifying information], to whom it has been disclosed and who has possession and retained her [viewership data] as a result of Defendant's illegal disclosures," the complaint says.
Document: Read the privacy lawsuit filed against Fubo
Legal representatives for Fubo asked a federal judge last month to delay the case, so they could review Burdette's complaint. The judge assigned to the case gave Fubo until early November to file their response.
Attorneys for Burdette cite a 1980s-era law called the Video Privacy Protection Act (VPPA), which was initially passed to prevent video stores like Blockbuster from disclosing a customer's rental history without their permission.
The law was passed after a newspaper in Washington, D.C. published an article about Robert Bork during his Senate confirmation hearing for a judgeship on the U.S. Supreme Court. A reporter managed to obtain a list of videos Bork rented from a store, and information from that list appeared in the article.
Bork's nomination ultimately fell through. But the aftermath of the article prompted Congress to pass the VPPA, largely out of concern that the rental history of other politicians might also be made public.
The law specifically prohibits the "wrongful disclosure of videotape rental or sales records" without a person's permission. Over time, the definition of "videotape" has been broadened to include "similar audiovisual materials," which lawmakers and courts have interpreted to include video games and streaming services.
Until recently, streaming services were rarely subjected to lawsuits under the VPPA. But a wave of new consumer protection laws passed by various states have renewed interest in the law, and law firms have wasted little effort trying to convince streaming video subscribers to file privacy-related complaints in an effort to spur class action lawsuits — which can generate significant cash for the attorneys representing those customers.
Fubo, a publicly-traded company, appears to have been aware that it might be the target of a privacy-related lawsuit. In at least one annual report distributed to investors and filed with the U.S. Securities and Exchange Commission, the company said its "use of subscriber data to deliver relevant advertising on our platform places us and our content publishers at risk for claims under a number of laws, including, but not limited to, the Video Privacy Protection Act."
"Some content publishers have been engaged in litigation over alleged violations of the VPPA relating to activities on online platforms in connection with advertising provided by unrelated third parties," the company wrote in the report, adding later on that "we…could be at risk for violation or alleged violation of these and other laws, regulations, and other standards and contractual obligations relating to privacy, data protection, and information security."
Fubo's chief legal officer did not return an email from The Desk seeking comment.