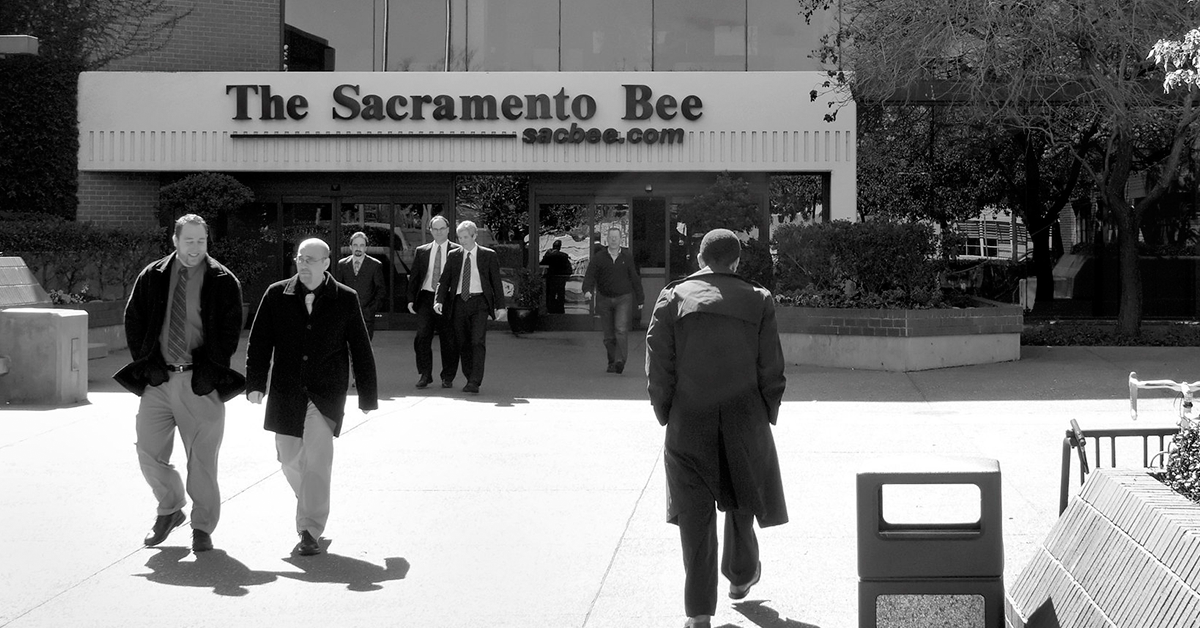 McClatchy Company, the owner of the Sacramento Bee and more than two dozen other major metropolitan newspapers, has filed for Chapter 11 bankruptcy protection.
The voluntary bankruptcy filing started the process of what the company hopes will be a restructuring of its debt with lenders, bondholders and other key stakeholders, the company said in a press release.
"While this is obviously a sad milestone after 163 years of family control, McClatchy remains a strong operating company and committed to essential local news and information," Kevin McClatchy, the chairman of the McClatchy Company, said in a statement provided to the Sacramento Bee. "While we tried hard to avoid this step, there's no question that the scale of our 75-year-old pension plan — with 10 pensioners for every single active employee — is a reflection of another economic era."
McClatchy expects to continue operating its business as normal, a spokesperson said. The company secured a $50 million line of credit from Encina Business Credit, LLC to continue operating through the bankruptcy, the Sacramento Bee said.
"The media industry has been under tremendous pressure for years," McClatchy Chief Executive Officer Craig Forman said in a letter to employees. "Technological advances, consumer-behavior shifts, and business-model challenges are among the many disruptive forces affecting the media business. We believe the actions we have taken are an important step to ensure a strong future for McClatchy, and we look forward to emerging from this process in the next few months with a stronger financial foundation."
The 163-year-old news company is the second-biggest publisher of newspapers in the United States. Along with the Sacramento Bee, the company operates the Miami Herald, the Idaho Statesman, the Kansas City Star, the Wichita Eagle and the Fort Worth Star-Telegram.
The company said it hopes the bankruptcy filing will allow it to "shed much of its pension obligations" while refocusing its newsrooms toward "a digital future." McClatchy froze pension benefits for its workers in March 2009.
The company has made some effort to forge new ground in the digital media space. Two years ago, it invested in a 10,000-square-foot digital lab near a Sacramento train station about two miles away from the Sacramento Bee newsroom. There, workers experimented with augmented reality and 360-degree video. But despite its best efforts, those experiments have failed to resonate with newspaper readers.
To cut down on costs, McClatchy announced last year it would eliminate Saturday print delivery at three of its newspapers. Subscribers were told they could access an expanded digital edition of the newspaper on that day instead.
In November, McClatchy said it would support a nonprofit business model at the Sacramento Bee where a handful of reporters and editors on specific beats would have their salaries paid for in part by public donations. The company later announced plans to expand the nonprofit model to an additional 10 newsrooms and promoted its west region editor Lauren Gustus to oversee the project.
McClatchy's decision to embrace the nonprofit model came amid reports the company would likely not be able to pay down a $120 million pension funding debt that was due this year.
Earlier this year, McClatchy began suspending pension payments to some of its key executives. The company later applied to the Pension Benefit Guaranty Corporation, a federal insurer of retirement benefits, allowing the government to control its pension plan.
If a federal judge accepts McClatchy's bankruptcy plan filed on Thursday, the company would transition from a publicly-traded company into a privately-held firm. It would likely come under the control of its largest creditor, hedge fund Chatham Asset Management.
McClatchy owes creditors more than $703 million as of Thursday morning and has unfunded pension obligations totaling above $805 million, according to a company spokesperson.
McClatchy's ($MNI) stock price was 75 cents a share as of Wednesday afternoon. It was not actively trading on the New York Stock Exchange on Thursday, and the company says it expects to be de-listed from the market exchange soon.