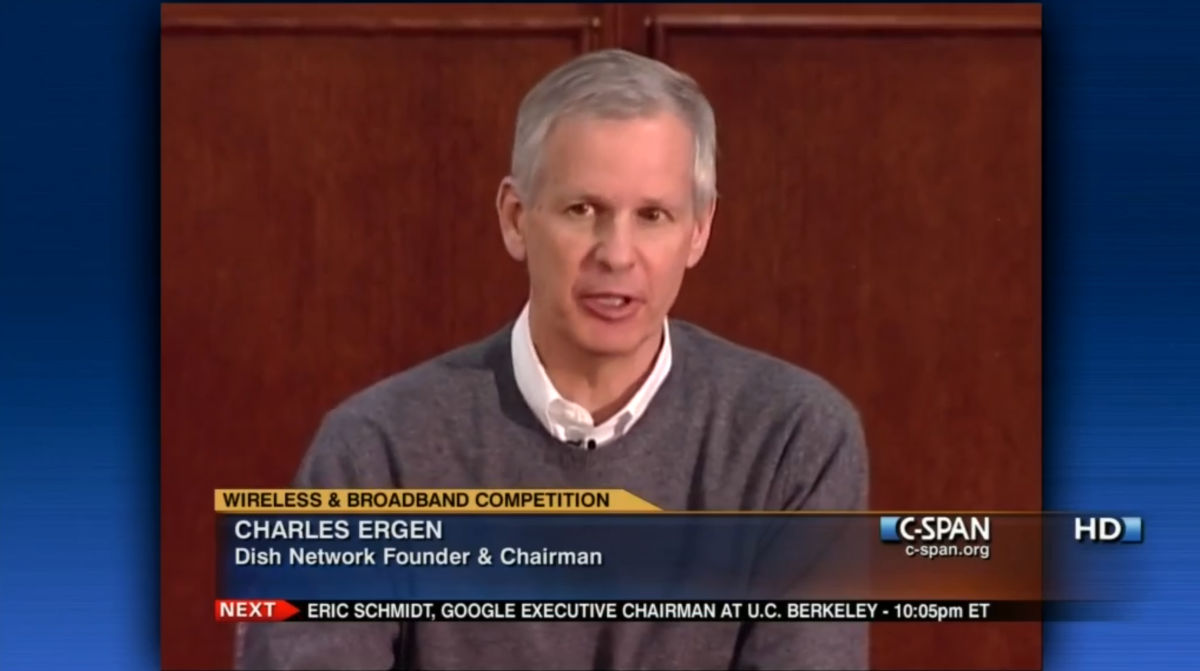 Dish Network's founder and chairman Charlie Ergen hinted on Monday that an impending carriage dispute between the satellite company and the Sinclair Broadcast Group hangs on a commitment to carry lesser-watched regional sports networks.
This week, Sinclair and most of its 100-plus local stations began warning viewers that the company's ABC, NBC, CBS and Fox affiliates could be pulled from Dish Network's flagship satellite service and streamer Sling TV if both sides are unable to renew a carriage agreement for those channels.
The note came the same day Dish Network reported its quarterly earnings report, which revealed the satellite service had lost more than 130,000 customers over a three-month period ending in June. Sling TV helped offset some of that bleed by adding more than 65,000 customers.
All told, Dish Network serves more than 10 million paying TV customers across its satellite and streaming footprint.
Those customers may lose access to one or more local channels operated by Sinclair if both sides continue to dicker over fees paid to Sinclair in exchange for Dish Network's right to provide the channels to its subscribers. Also on the line is the Tennis Channel, which Dish Network carries in several of its programming packages.
Though the potential carriage dispute received fresh attention on Monday, Dish Network's beef with Sinclair can be traced back to 2019 when the satellite company decided not to renew an agreement to continue carrying more than a dozen Fox Sports-branded regional networks. (Earlier in the year, Sinclair acquired the channels from the Walt Disney Company; those channels are now branded Bally Sports.)
Last year, Ergen said the regional sports channels would likely not return to Dish Network or Sling TV, citing both high costs associated with carrying the channels and poor viewership figures based on Dish Network's own data.
"Today on our network, we may have people who want to watch regional sports, but it's a fraction of what it was [in 2019]," Ergen commented last year, adding that he was not persuaded by arguments that customers might leave Dish Network for a competing service that carries the channels.
"The programmers have a hard time understanding that, once somebody leaves [Dish], there's no reason to put something back and tax the rest of the [customers] because the people who really watch the channel leave us because they have alternatives," he said.
On Monday, Ergen echoed similar comments, saying he was fairly certain customers would begin complaining if the local channels are dropped, while at the same time appearing to hold firm that he would not ink a new distribution agreement with Sinclair if it meant Dish Network was forced to carry the regional sports networks at a premium price.
"We're happy to talk about anything that's creative and doesn't harm our customers," Ergen remarked during a conference call with investors and the press on Monday. "But we're not interested in taxing our customers when they don't watch the channels — that doesn't make any sense."
Once a rare occurrence, carriage disputes between distributors like Dish Network and programmers like Sinclair are becoming more common as programmers spend millions — sometimes billions — of dollars securing rights to live sports and investing in news and original content.
Like other local broadcast station owners, Sinclair must also pay affiliate fees to companies like Fox Corporation and Comcast's NBC Universal in order to provide network programming on its local channels. (Earlier this month, Fox Corporation said the affiliate fee charged to station owners like Sinclair brought in more than $6.44 billion in a one-year period ending June 30.)
That investment is passed on to distributors like Dish Network in the form of higher programming fees, which inevitably trickle down to customers, leading to higher cable and satellite bills — one of the primary drivers away from traditional pay TV services for cheaper streaming options.
Programmers like Sinclair say they're simply asking for what's fair, considering their investment. Distributors often amount those request to extortion, noting that customers can often receive their local channels for free with an antenna or by streaming through the non-profit service Locast. (Dish Network began integrating Locast into its network-connected set-top boxes in 2020 and recently started rolling out access to Locast through Sling TV.)
The programming fees charged to distributors have caused some to draw a hard line in the sand. Over the past few years, Dish Network has opted to pull channels instead of acquiescing to higher fees. In addition to the Sinclair dispute, Dish Network has found itself at odds with Comcast (regional NBC Sports channels are no longer available to Dish Network or Sling TV customers), Cox Mexia, the E.W. Scripps Company and others.
With their discussion now spilling into the public arena, all signs clearly point to an impending dispute between Dish Network and Sinclair that will see customers lose access to one or more channels. The question is, when will Dish Network reach a new agreement over those channels, and what will the terms of that deal be?
That is a difficult question to answer, because carriage disputes are often resolved without terms being disclosed (but customers typically see an increase on their bills a short time later). If things really do hang on regional sports channels, the issue could become moot in a few months as Sinclair readies a standalone streaming service that will link so-called "cord cutters" to its live sports channels without a cable or satellite package — and possibly at a cost of more than $20 a month.