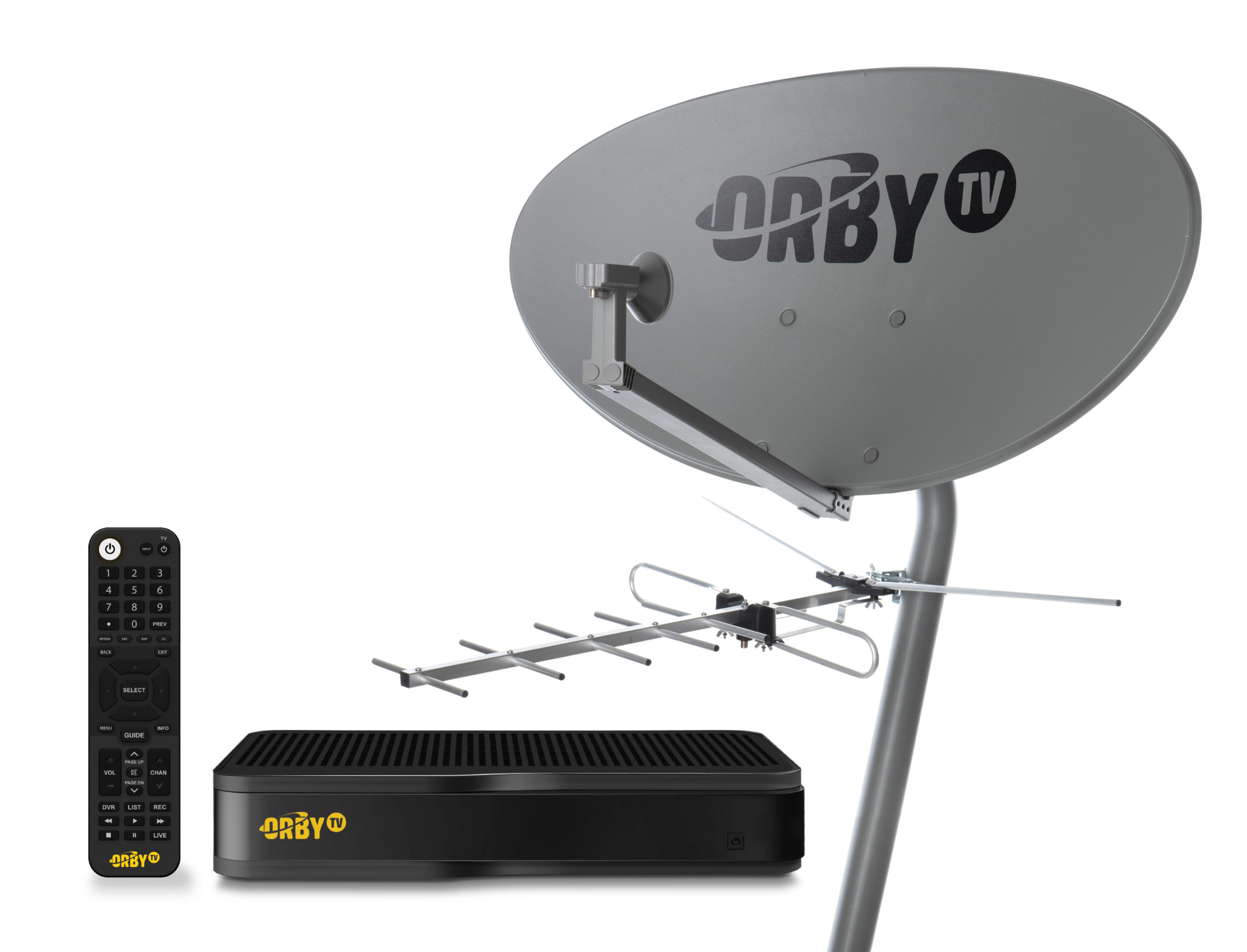 Michael Thornton thinks Americans are paying way too much for television.
He knows more than a thing or two about the media industry: He's was a programmer at DirecTV before they were acquired by AT&T. He was an executive corporate counsel at Disney's ABC. And he made sure the money kept coming in at Lionsgate-owned Starz.
He knows people are fed up with paying out the nose just to watch quality television. "TV is just way too expensive," Thornton said in an interview with The Desk last week. "The average video only bill is something on the order of $110 at this point. We just felt like, for a big chunk of the population, that was just too much to pay for television."
That's why late last year he and several other colleagues came together to form Orby TV, a new, low-cost satellite television service that seeks to challenge what's wrong with the traditional pay TV industry while giving people an alternative to Internet-based services.
Orby TV works like this:
Customers pay for a $100 standard satellite receiver or a $200 receiver with integrated digital video recorder for each room where they want service (up to a maximum of four). The receivers are sold at Best Buy, some Target stores and through Orby TV's website.
Next, customers choose between a $70 self-installation kit or a $150 professional installation package. Both options the satellite dish and an over-the-air antenna (more on that later); the professional installation option also includes wiring and hookup to one receiver, with each additional receiver costing an extra $50.
By asking customers to purchase equipment outright, Orby TV is able to offer two low-cost prepaid subscription packages:
An Essentials package of around 45 channels, including CNN, MTV, Comedy Central, Food Network, TNT, TBS, Turner Classic Movies, Nickelodeon and Cartoon Network, for $40 a month,
An Extras package with around 60 channels, including everything in the Essentials package plus additional networks – among them, BBC World News, BET Her, the Cooking Channel and several Spanish-language channels – for $50 a month.
Add-ons include:
HBO for $18 a month
Cinemax for $11 a month
Starz for $9 a month
Epix for $6 a month
DVR service for $4 a month.
The price is the same regardless of how many receivers a customer uses, and all taxes and fees are included.
Thornton said Orby TV's business model mirrors that of the mobile phone industry where MetroPCS, Simply Mobile and Boost are able to offer customers low-cost service by requiring them to purchase hardware upfront.
"We don't feel like we innovated anything in that realm," he said.
But Orby TV is doing something innovative: Unlike mobile phone service, when an Orby TV customers decide to end their pay TV subscription, they still receive a handful of channels for free thanks to the outdoor antenna Orby TV includes with its professional installation.
The over-the-air antenna pulls in a handful of broadcast networks — ABC, NBC, CBS, Fox, PBS and others — as well as dozens of digital-only channels like Laff, Comet, Stadium, Antenna TV, Me TV and Court TV. Exactly how many broadcast channels a customer can receive depends on a few things, including where they live and what the terrain is like near their home, but outdoor antennas are typically better at pulling in channels clearly and consistently than indoor ones.
By itself, an outdoor antenna can cost between $200 and $300 in hardware and installation costs. By including it with their satellite service, Orby TV is practically giving away the antenna. And since broadcast networks are received over-the-air, Orby TV doesn't have to negotiate retransmission rights, which means Orby TV customers don't have to suffer through carriage disputes that have become increasingly common in the pay TV space.
But that also comes with a downside: Since Orby TV doesn't have deals with ABC, NBC, CBS or Fox, it means the company also doesn't have agreements to carry pay TV channels offered by the parent companies of those networks. Disney, which owns ABC, also owns ESPN; Comcast, the parent company of NBC, also owns USA, Bravo and NBC Sports. CBS owns both the broadcast network and a handful of pay TV channels, including premium network Showtime.
Thornton admits it's difficult to negotiate carriage deals with these companies because most aren't willing to offer agreements for just certain channels.
"When you talk to a big programmer…they all sell their collection of [channels] in bundles," he said, "so you can't go to Viacom and say I'd really like to buy Comedy Central and BET; they basically say the price of Comedy Central is x and, by the way, we'll throw in all these other channels as well."
While the service does have an agreement with Viacom, it doesn't with Fox, which means Orby TV customers can't get one of cable's highest-rated channels: Fox News. On its FAQ page, Orby TV says it wants to carry Fox News and is actively discussing the situation with Fox, but Thornton says it's difficult to negotiate terms because Fox also programs the Big 10 Network, Fox Sports 1 and Fox Sports 2.
"We are in discussions with them in terms of looking at an economical way of adding Fox News to the bundle, but with them wanting to include all those other channels…it's very hard to make those equations work," he said.
Orby TV also doesn't have a way for customers to authenticate their subscription using internet apps offered by the networks it does carry. That feature, known as TV Everywhere, has to be negotiated separately, Thornton said. Orby TV is working to get that feature to its customers, people familiar with the company's plans said, but no one knew when it would become available.
But Thornton thinks Orby TV still has an advantage over streaming TV companies that have secured those agreements: When those services launched, they lured customers in with a promise of a cheaper alternative to cable without sacrificing too many channels. But over the last few years, many of the big players — Sling TV, YouTube TV, Hulu and Fubo TV — have been forced to raise their prices, and despite convincing millions to sign up, they still aren't profitable.
"In the current form, [the streaming services] lose money with every customer they bring in to that platform," Thornton says.
He knows how difficult it is to launch a satellite business: During his time at DirecTV, "we were at millions and millions of customers, but we didn't see a profit," Thornton said. Programming costs were one problem; so, too, was the astronomical expense of launching and maintaining a fleet of satellites, which can easily cost a company tens of millions of dollars each year (in 2018, Dish Network spent $100 million operating its satellites; that figure didn't include equipment leased to customers).
That's a cost Orby TV doesn't have to worry about — to date, the company has put exactly zero satellites in the sky. Instead, it leases transponder space on an existing satellite, Eutelsat 117 West A, and has tapped Globecast to provide technical operations, including satellite broadcasting, from a building in Culver City, California.
"Because we're leasing, it's a much more elastic infrastructure," Thornton says. "We can turn a profit when we're at 100,000 customers or maybe even a little less."
Thornton wouldn't say how close to that market the company is — he declined to provide specific subscriber numbers when asked by The Desk, citing a request from Orby TV's investors. He also declined to specify who those investors were, identifying them only as "a large pension fund." But he did say Orby TV was "on track" with its overall business model and that the company has seen month-over-month growth since it formally launched earlier this year.
"On the general feeling of it, we're in this because we really believe in the product," Thornton said. "We think our investor, by investing the money that they have, believe in the product. And we're here to provide it for the long-term, because we think it's a valuable service to a big segment of the marketplace."