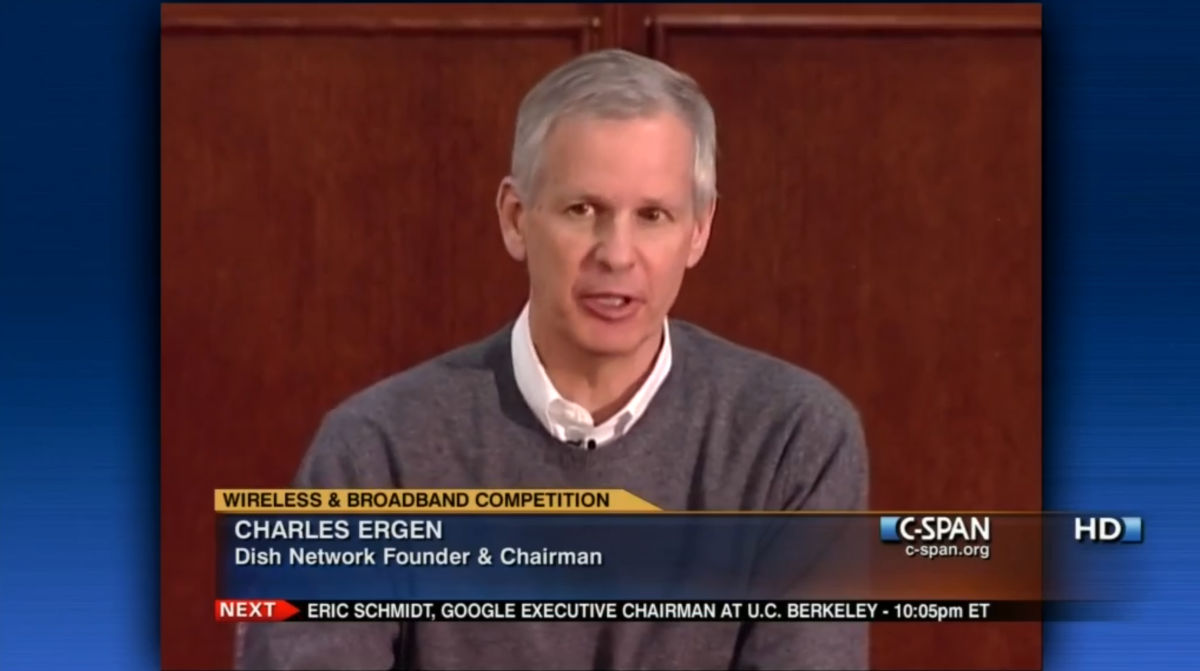 Dish Network's co-founder and chairman Charlie Ergen criticized wireless phone company T-Mobile over its plans to shut down an older-generation network.
The network, which uses technology called CDMA, was formerly used by customers of Sprint, which T-Mobile acquired last year, and continues to be used by subscribers of Sprint's former prepaid wireless brand Boost Mobile.
As a condition of T-Mobile's merger with Sprint, the latter was forced to divest the Boost Mobile brand. Dish Network acquired the company as part of its overall plans to introduce a wireless phone service of its own built on a next-generation 5G network.
Until that network comes online, Boost Mobile customers continue to use T-Mobile's network under an agreement between that company and Dish Network. While most customers are able to take advantage of T-Mobile's 4G LTE and 5G wireless network, some with older devices still use Sprint's CDMA network for phone calls and mobile data.
Earlier this year, T-Mobile said it intended to shut off Sprint's older CDMA network by 2022 and move the company's postpaid customers over to T-Mobile's network full time. Dish has spent the last few weeks complaining to federal regulators that the move would disenfranchise Boost Mobile customers.
On Thursday, Ergen took his complaints public by comparing T-Mobile to The Grinch, a well-known children's book character who emerges from a cave on top of a mountain to steal Christmas presents from the children of a nearby village.
"We've seen this story before, the Grinch stole all the kid's toys," Ergen said on a conference call with investors. "They're stealing everyone's phones out of their hands. It was because the Grinch's heart was too small."
Ergen said he had a high amount of respect for T-Mobile's executive leadership, but felt that the move would cruelly deprive Boost Mobile customers of phone service. Prepaid phone customers, like those served by Boost Mobile, are typically less likely to upgrade their devices or choose lower-cost ones that may be incompatible with other networks for a number of reasons, including limited personal finances.
"The 'Uncarrier'  [referring to T-Mobile's consumer moniker] has become the uncaring carrier," Ergen charged. "And that's a shame."
At least the Grinch has a happy ending: Toward the end of the story, the Grinch ultimately returns the Christmas presents after realizing that his dastardly deed did nothing to dampen the holiday spirit within the villagers. (Sorry to spoil the book if you haven't read it, but it's been in print for more than sixty years and there were three movies made about it.)
Less clear if the saga of the "Uncaring Carrier" will have the same ending. T-Mobile has not commented publicly about the incident, but it has told regulators that it believes its actions are in line with its obligations under the agreement with Dish Network, and that the satellite company is solely responsible for migrating customers away from CDMA technology.
Unfortunately for Dish Network, that could put its Boost Mobile customers in a bind: Requiring Boost Mobile customers to upgrade to newer handsets capable of running on T-Mobile's network could be a costly endeavor, especially if Dish Network chooses to subsidize the cost of those upgrades.
Dish Network has little reason to upgrade customers to newer devices: Most phones on the market these days are capable of seamlessly moving between carriers. Dish Network's own 5G network is still a few years away from launching, meaning the company would remain reliant on T-Mobile's 4G LTE and 5G network for a little while longer — which means any new devices offered to Boost Mobile customers would need to be compatible with T-Mobile's network.
Even if the newer Boost Mobile devices are sold as locked, they'd be locked to T-Mobile's next-generation network, not Boost Mobile's. That means customers could eventually switch away from Dish Network to T-Mobile full time — a likely possibility, since T-Mobile is aggressive with new line offers targeted at customers on other carriers.
It's not a good situation for Dish Network either way, which is why the company has been so aggressive in demanding T-Mobile keep its CDMA network alive for just a little while longer, or be forced by regulators to do so. But with other carriers also shutting down their older wireless networks in favor of 4G LTE and 5G, it's probably something Dish Network should have thought about before they agreed to acquire the brand in the first place.