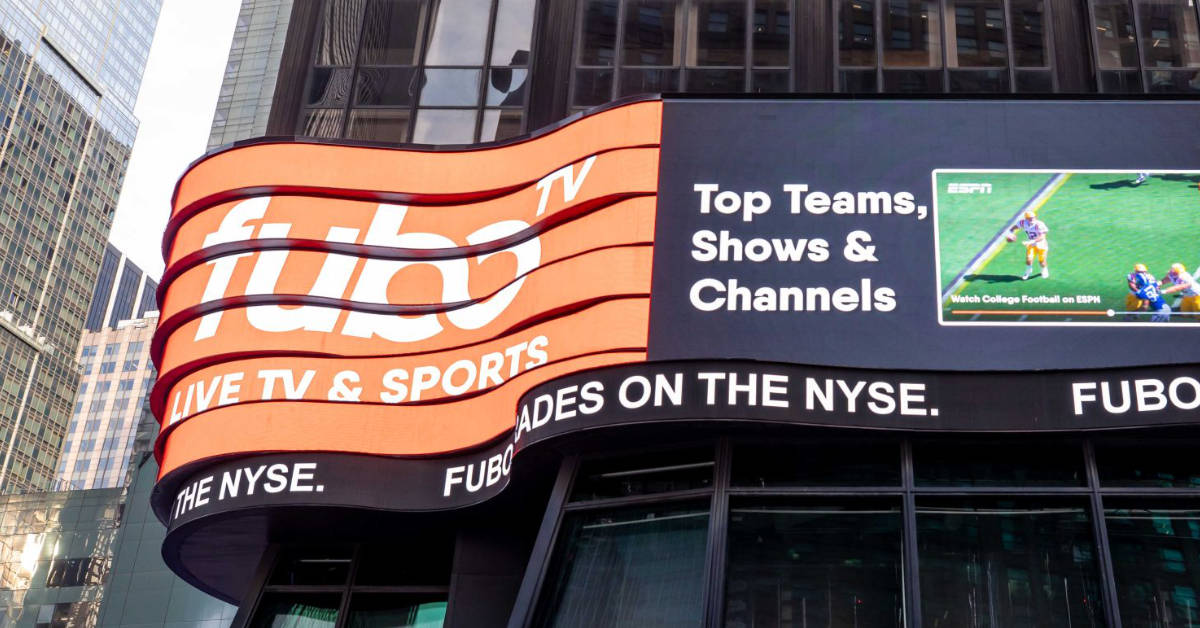 The per-share price of streaming television service Fubo TV dipped below $1 for the first time in the company's history on Monday, a sign that investors continue to express skepticism over the long-term viability of the sports-centric media brand.
The milestone continued a monumental downturn for Fubo TV after it attracted sizable attention among social media users during the coronavirus pandemic a few years ago, a time when the company enjoyed status as a so-called "meme stock" that saw unwarranted gains at GameStop, AMC Theaters and other organizations.
Nearly two years ago, Fubo TV was trading north of $48 a share. But concerns over outsized spending, a weakening advertising market, high content licensing costs and increased competition in the streaming space has cooled expectations for Fubo TV, with its stock price tumbling 34 percent since the start of 2023 and 85 percent over the last 12 months.
While Fubo TV has added subscribers over the last few months — it currently has over 1 million customers willing to pay more than $75 a month for the service, or over $85 a month if they receive one or more regional sports networks — investors are skeptical that the company has a solid, long-term business strategy.
"Desperately trying to stay alive — why do retail investors continue to give them cash?" Rich Greenfield of LightShed Partners tweeted during the company's quarterly earnings call in late February. "[I] love how management is talking about how well-positioned they are, and the company's great future, while they are selling stock in a distressed situation for sub-$2 per share to stay afloat with an unprofitable [business] model."
Part of that unprofitable business model focuses squarely on live sports, which was leveraged early on as a way for Fubo TV to differentiate itself from other streaming cable television alternatives on the market.
To that end, Fubo TV spent several years and millions of dollars building up a sports betting product that it hoped would tap into the growing trend of sports wagering against live sports and other events over the long-term.
But that didn't happen. Last year, Fubo TV was forced to come to terms with the fact that, despite all the money and effort spent on building out the Fubo Sportsbook (which included acquisitions of smaller tech companies and securing licenses for sports wagering in a handful of states), the premise cost more than Fubo TV was able to afford. Months after announcing a "strategic review" of the business, Fubo TV ended development of its sports wagering product last October.
Moving forward, executives have placed greater emphasis in developing the live television experience, to mixed results. After Fubo TV dropped AMC Networks at the beginning of the year, many subscribers figured the service was making way for new programming options that could bring them additional live sports.
That happened when Fubo TV inked a deal with Diamond Sports, the now-bankrupt subsidiary of Sinclair Broadcast Group, to onboard nearly two dozen Bally Sports-branded regional sports networks. But the deal came at a cost: Fubo TV raised the price of its base package to $75 a month and tacked on a regional sports network fee that will see most customers pay an extra $11 to $14 a month (even though Fubo TV says on its homepage that it has "no hidden fees," the regional sports fee isn't part of the advertised price).
In the television space, live sports is about as expensive as it gets, and Fubo TV is far from the only company that has increased prices to offset higher licensing costs: This month, YouTube TV announced it would upward adjust the cost of its base subscription package to $73 a month, the first time in three years the Google-backed service has raised fees on customers. Dish Network's Sling TV, Vidgo and the Walt Disney Company's Hulu with Live TV have also raised prices across their programming tiers over the last 12 months.
But Fubo TV is one of the few streaming cable replacements to break out separate fees for programming in a way that makes it impossible for subscribers to avoid — a tactic that is reminiscent of traditional cable and satellite packages that viewers tend to drop in favor of cheaper streaming alternatives. Hulu and YouTube TV include some regional sports channels without charging extra for them; Vidgo doesn't carry regional sports channels, but also doesn't charge more for niche college sports networks that aren't carried on other services.
Daniel Frankel, a media journalist who works as the managing editor of Next TV, says Fubo TV faces increasing pressure from an already-competitive streaming cable alternative space.
"If Fubo TV can keep growing subscribers and revenue, while reducing its quarterly losses, everything should be just fine," Frankel wrote in a column published earlier this month. "But what are the odds of that all happening? To be certain, the already challenging [streaming cable replacement] market ain't going to get easier in the next 24 months."