Google's cable television replacement YouTube TV says it will increase the cost of its base programming package in April.
The package, which currently costs subscribers $65 a month, will rise to $73 a month for the same curated selection of over 80 channels, which includes local broadcast channels and top-tier cable networks.
In an email sent to subscribers on Thursday, Google said the rising cost of providing broadcast and cable channels to customers was to blame for its first price increase in nearly three years.
"As content costs have risen and we continue to invest in the quality of our service, we are updating our price to keep bringing you the best possible service," the note said.
Related: See cheaper alternatives to YouTube TV
YouTube TV's last price increase came in June 2020, when the service added Paramount-owned channels following the merger of Viacom and CBS one year prior. Before the merger, YouTube TV already offered broadcast and cable networks solely owned by CBS Corporation; new channels added at the time included Comedy Central, BET, Nickelodeon, MTV and VH1.
Since then, YouTube TV has both added and removed networks while managing to keep its price relatively level, with customers shelling out $65 a month for around 80 networks owned by the Walt Disney Company, Paramount Global, Fox Corporation, Comcast's NBC Universal, AMC Networks and others.
Earlier this year, Google said a lapsed agreement with Major League Baseball (MLB) forced the removal of MLB Network, but hinted the channel could return before this year's opening day, which is scheduled for later this month.
Those negotiations are still ongoing, according to people familiar with the matter, but neither Google nor MLB Network are closer to a deal than they were before the channel was dropped in January.
At the same time, YouTube TV struck a deal with Nexstar Media Group to onboard nearly 60 CW Network and independent broadcast stations that are usually tough to find on other services. The agreement included KTLA (Channel 5, CW) in Los Angeles, WPIX (Channel 11, CW) in New York City and WGN-TV (Channel 9) in Chicago, among others.
Sunday Ticket Without YouTube TV
The price increase announced on Thursday comes nearly three months after Google was awarded the rights to the National Football League's (NFL) Sunday Ticket package, which offers Sunday morning and afternoon football games broadcast by CBS and Fox stations beyond those available on affiliates in a subscriber's local area.
Reports at the time indicated Google will shell over $2 billion per year during the life of the deal, which will be in place for seven years.
YouTube TV subscribers will have access to NFL Sunday Ticket as an add-on package, which will raise the price of their overall service beyond the $73 a month announced on Thursday. The package will allow streamers to watch multiple games from a single screen, a feature Google is calling "Mosaic Mode," and one that replicates multi-view channels found on other services.
But the NFL Sunday Ticket won't be exclusive to YouTube TV: Google is also making the package available through the YouTube app itself, as part of its streaming marketplace called YouTube Primetime Channels. Which means streamers won't have to plunk down $73 a month for YouTube TV just to get the NFL Sunday Ticket.
Alternatives to YouTube TV
The price increase announced for YouTube TV on Thursday will no doubt have many subscribers looking for cheaper alternatives, and probably even contemplating a move back to traditional cable or satellite. But even among streaming services, it can be extremely difficult to find low-cost options that offer highly-sought cable news and sports channels, which tend to be the biggest draws for pay television.
Streamers who are looking at alternatives to YouTube TV in the wake of the price increase should take into account which channels they watch the most, and which they can reasonably live without. The more a streamer is willing to sacrifice, the more money they will likely save.
Here are a few alternatives to YouTube TV that will cost less once the price increase goes into effect:
Vidgo
Cost: $65 a month (base package)
Free trial: No (unless you're a Sony TV customer)
Number of channels: 100+ in base package
Sports channels: ESPN, FS1, FS2, NFL Network, MLB Network
Cloud DVR: Limited, varies by package
Get it: Click or tap here
Last month, Vidgo quietly raised the price of its base, English-language channel package to $65 a month, matching what YouTube TV charged at the time, but without access to some of the channels that made it less of a consideration when compared to YouTube TV.
But with YouTube TV set to raise its base package of channels to $73 a month, suddenly Vidgo's $65 a month plan doesn't sound too bad, especially considering Vidgo offers some of the most-sought cable channels — ESPN, Fox News, FX, MLB Network and NFL Network — which tend to draw people to a pay television service in the first place.
Vidgo doesn't have agreements in place with Comcast's NBC Universal, nor does it offer regional sports networks. It also doesn't offer the CBS side of the Paramount Global portfolio, or the Turner side of the Warner Bros Discovery portfolio (so no CNN, TBS or TNT). But it does have live access to ABC and Fox stations and affiliates, and with its robust line-up of professional sports, college sports and cable news channels, most will be satisfied with what Vidgo serves.
For this reason, Vidgo is The Desk's top recommendation to replace YouTube TV, especially if access to sports and news channels are top of mind. While YouTube TV subscribers moving to Vidgo will have to sacrifice a few channels and features, the service offers plenty of programming options, and at a price that YouTube TV customers are already used to paying.
---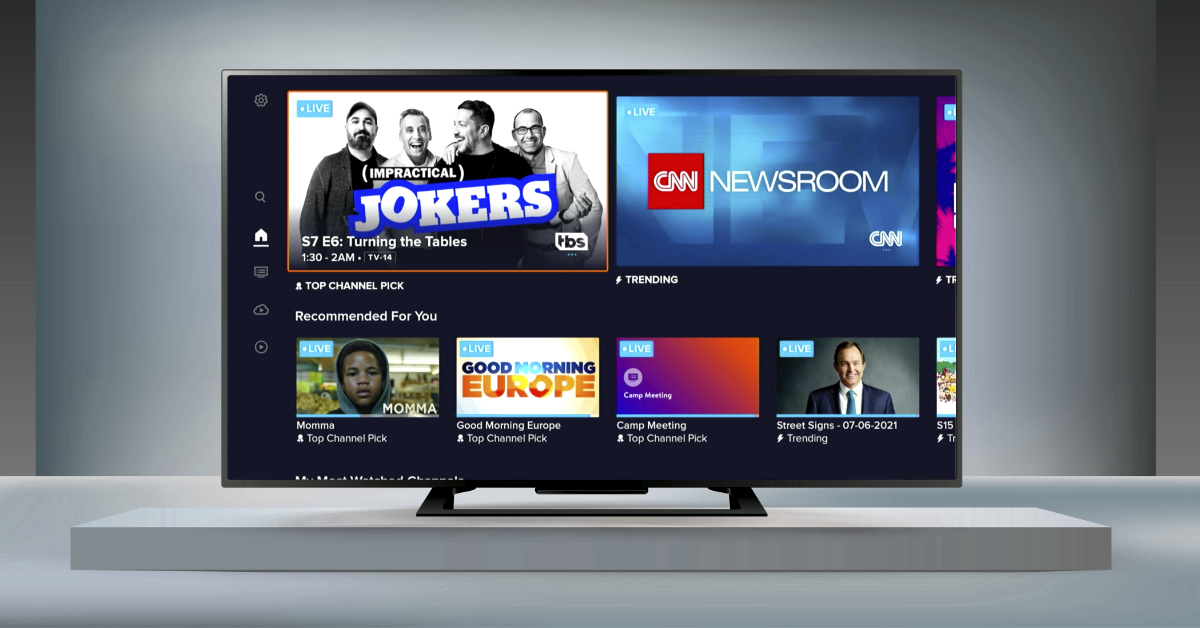 Sling TV
Cost: Between $40 and $50 a month, depending on package
Free trial: Sometimes
Number of channels: 31-41 channels, depending on package
Cloud DVR: 50 hours for free, 200 hours for extra fee
Get it: Click or tap here
Operated by satellite broadcaster Dish Network, Sling TV has been one of the cheapest streaming cable alternatives on the market for several years.
While Sling TV has been afflicted by the same price increases as everyone else, the service has managed to keep costs down relative to its competitors by offering two, low-cost base programming packages that include just the basics: TBS, TNT, CNN, Comedy Central, Discovery Channel and a handful of other entertainment and lifestyle networks, plus ABC, Disney, FreeForm and ESPN (in Sling Orange) or Fox, NBC, FX, Bravo, MSNBC and E! (in Sling Blue). From there, Sling TV subscribers add packages of channels depending on the networks they want to receive, with each package priced between $5 and $10 extra.
Adding on all the network packages can quickly raise the cost of a Sling TV package to the point where customers might feel like they're paying for cable or satellite. But streamers who are willing to make compromises are able to get a good amount of broadcast (in some areas) and cable networks for far less than they would at other services.
Sling TV doesn't offer regional sports networks, but does offer some national sports channels, including ESPN (Sling Orange), FS1 (Sling Blue), NFL Network, NHL Network and others. The service also supplements the quantity of networks in its pay TV package with free, ad-supported streaming channels like ABC News Live, CBS News, Comedy Central Pluto TV, AMC Thrillers, just to name a few.
New Sling TV customers can save 50 percent off their first bill when they sign up for service by clicking or tapping this link.
---
Philo
Cost: $25 a month
Free trial: Yes (7 days)
Number of channels: Over 70
Cloud DVR: Unlimited, recordings saved for one year
Get it: Click or tap here
YouTube TV streamers who mostly watch general entertainment channels like Discovery, Animal Planet, Comedy Central, TV Land and others don't need to pay for cable news and sports channels that they don't watch.
That's where Philo comes in: The service offers more than 70 general entertainment, lifestyle and knowledge channels from Paramount Global (Comedy Central, Nickelodeon, MTV, BET, TV Land, Paramount Network), Discovery Networks (Discovery Channel, Animal Planet), A+E Networks (A&E, History Channel, Lifetime, Vice TV), AMC Networks (AMC, IFC, BBC America, Sundance) and more for just $25 a month, with a 7-day free trial included.
Philo offers subscribers the ability to create 10 user profiles, each with its own unlimited cloud DVR that stores movies and TV shows for at least one year. Starz and MGM Plus are available for separate fees.
While Philo doesn't have sports channels, it's perfect for people who can receive most of their sports programming with a free antenna (Nickelodeon occasionally airs a kids-themed NFL or March Madness game). Philo also doesn't serve up cable news channels like CNN, Fox News or MSNBC, but it does offer BBC World News, Bloomberg, Cheddar and the Law & Crime Trial Network — plus, there's plenty of free streaming news options (like ABC News Live, NBC News Now and LiveNow from Fox) available on YouTube.