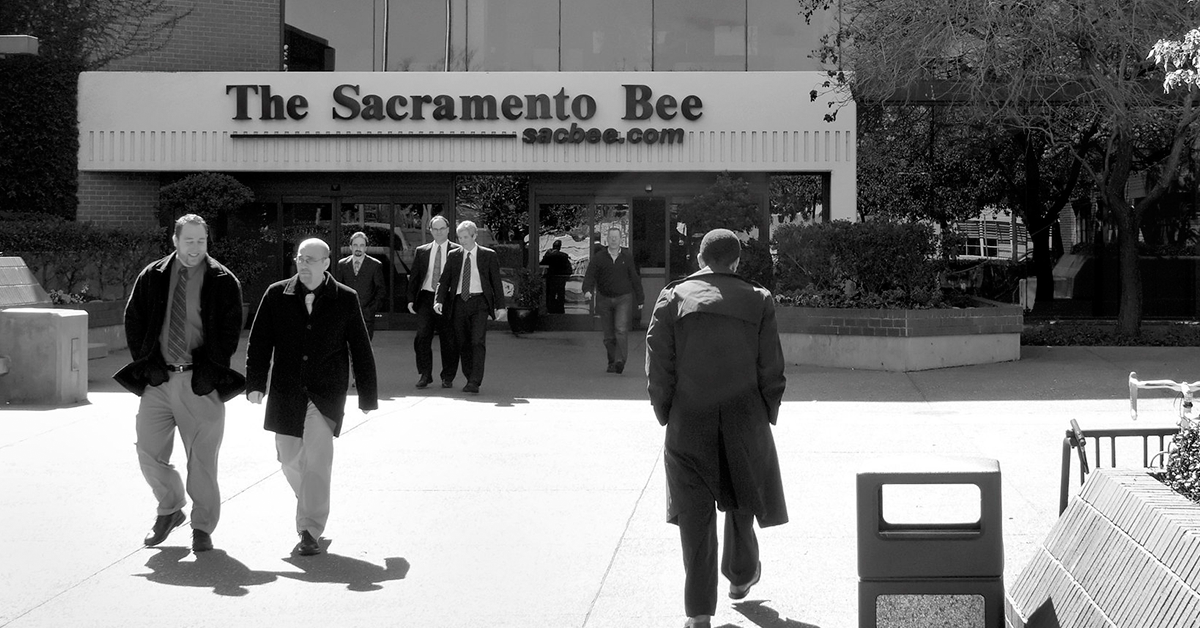 The editorial board of the Los Angeles Times is criticizing the Sacramento Bee and its veteran crime and courts reporter, Sam Stanton, over its coverage of a gang-related shootout earlier that killed six people and injured more than a dozen others.
One of the men arrested after the shootout, 27-year-old Smiley Martin, was reportedly released from prison early after he served a fraction of a 10-year sentence in a domestic violence case.
Martin was one of three people arrested on weapons-related charges after the April 3 incident, which was initially characterized by the Sacramento Bee and other local media as a "mass shooting" until local police revealed it was actually gang related.
Two days after the shooting, the Sacramento Bee published a story written by Stanton that was based in large part on a California Public Records Act request for documents related to Martin's incarceration. The newspaper received, among other things, a letter from the Sacramento County District Attorney's Office objecting to Martin's release when he was up for parole in 2021.
"Inmate Martin's criminal conduct is violent and lengthy," the letter read, according to the newspaper. "If he is released early, he will continue to break the law."
Martin was released the following year after he completed his term of imprisonment, the Los Angeles Times reported. He was not released "early," as a headline on the Sacramento Bee's website and a paragraph in the newspaper article stated, the Los Angeles Times said.
The editorial board charged politicians, prosecutors and reporters with misusing the phrase "early release" when, in this case, Martin had served a number of years awaiting trial — time that was credited toward his sentence, as would be the case with other criminal defendants who are held before they are convicted of a crime.
"That's the law and the Constitution," the Los Angeles Times wrote. "Martin was held in Sacramento County Jail for 508 days before his 'no contest' plea and his sentence was entered, so deduct those days from his 10 years."
The newspaper said judges, prosecutors and others involved in Martin's case likely knew that a 10-year sentence would not actually involve 10 years in jail because he had already served a substantial amount of time in pre-trial custody, and good time credits and other incentives awarded to inmates meant he would actually serve around half of his sentence.
"No one — not the Department of Corrections and Rehabilitation, not [Sacramento District Attorney] Schubert, not the Board of Parole Hearings — had any discretion or authority to keep him in prison a day longer than he was there," the Los Angeles Times editorial board wrote.
The Bee's reporting on the "early release" that wasn't was widely parroted by local television news stations, and it took politicians like District Attorney Anne-Marie Schubert no time in challenging laws that allow convicts to earn good time credit in order to satisfy the completion of their sentences.
"The half-truths about credits and the falsehoods about parole boards shouldn't be surprising," the Los Angeles Times wrote. "But they can cause serious harm by undermining tested policies that improve lives. And they make a mockery of our democratic process by lifting up rumor and anecdote, and making them, rather than facts, central to our collective decision-making."
Some of those half-truths included a suggestion in Stanton's original report that leaned heavily on the letter sent from the Sacramento District Attorney's Office to the parole board at the California Department of Corrections and Rehabilitation when Smiley was considered for actual early release.
The tone of Stanton's reporting and his decision to lean heavily on the parole board letter caused politicians and the public to criticize Governor Gavin Newsom and state parole commissioners, charging them with creating an environment that allowed the April 3 shooting to occur.
But the Los Angeles Times said a "simple check of the facts revealed that there was no parole board involvement in the release."
In a separate commentary published on Tuesday, Davis Vanguard executive editor David Greenwald questioned how the Sacramento Bee report could be published the way it was.
"Maybe we should be asking how a veteran Sacramento Bee reporter missed this?" Greenwald asked.
The Sacramento Bee has not commented on the Times' reporting or fact-checking as of Tuesday afternoon. Stanton has not commented, though his Twitter account showed the Bee continues to publish his crime reporting on other matters. One day before his report on Martin was published, Stanton tweeted that he was eating a Subway sandwich at his desk.
"I thought those glamorous days were gone," Stanton wrote.
Some are wondering if the glamorous days of accountability and accurate reporting at the Sacramento Bee are gone as well.
"The media actually completely blundered the story—maybe at the behest of DA Anne Marie Schubert," Greenwald charged. "Maybe by their own sloppiness or eagerness to break the news that puts another black mark on criminal justice reform efforts."