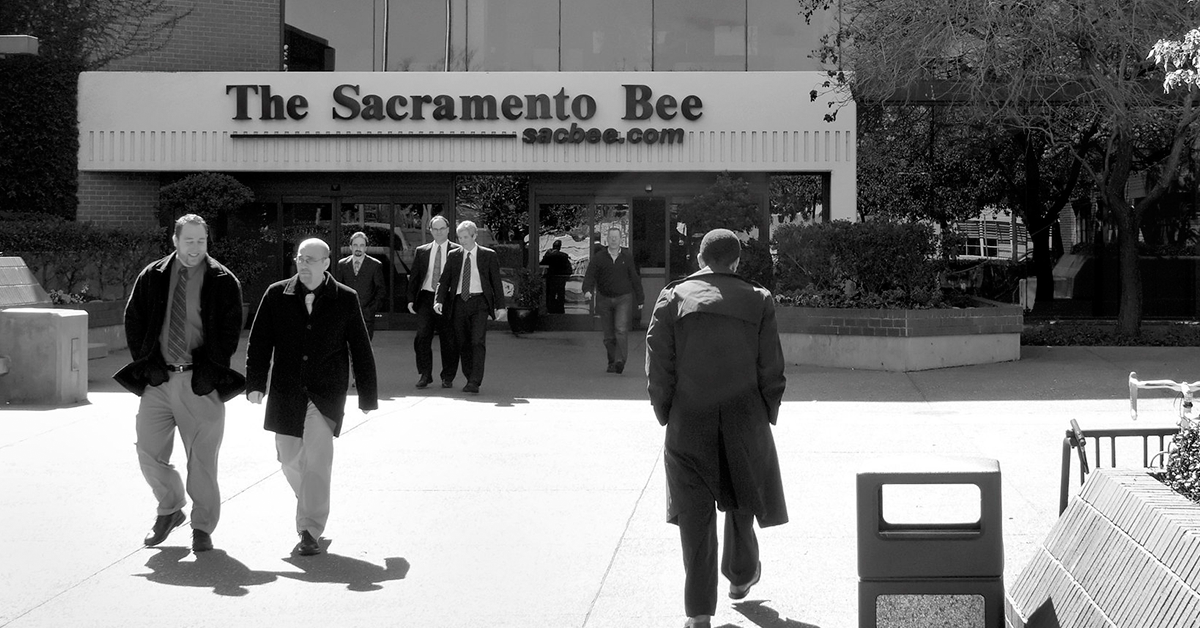 The union representing journalists at the Sacramento Bee is pushing back against a proposal that they say would tie employee performance reviews to web traffic.
In an open letter sent to McClatchy chief executive Tony Hunter and published on Twitter (McClatchy is the parent company of the Sacramento Bee), the Pacific Media Workers Guild said it understood the Bee and other newspapers were faced with challenging times but said critiquing employee performance to how well their stories do online "would negatively affect news-gathering, employee morale and the Bee's reputation."
"The idea alone has already impacted morale," the letter said.
According to the letter, the Bee has changed its online performance metrics several times over the last few years.  The company first monitored overall page views, then later changed to a model where page views from subscribers were considered alongside customer conversions.
A new proposal, known internally as Compass and recently proposed by Bee management, would tie a reporter's overall performance with online metrics that the union calls outdated. Worse, the union said, it would reward superficial write-ups — menu changes at Taco Bell and Chipotle were cited as specific examples that actually appeared on McClatchy websites — over hard-hitting journalism.
Even if the Bee decided to go forward with Compass, the union said it would be unfair to staff writers and other reporters because elements that can make or break a story online — including story headlines and push alerts that are sent to subscribers — are typically outside of a writer's control.
"We have landed big stories by publishing accountability pieces that generate new leads, developing sources, digging through documents and data, and staying curious," the letter says. "The company's proposal puts metrics first and treats those pursuits as luxuries to be pursued after quotas are met."
This could mean electrifying headlines rather than responsible headlines https://t.co/JfjhBt8H1R

— Greta Van Susteren (@greta) October 20, 2020
Lauren Gustus, McClatchy's west coast editor, fired back Monday afternoon, painting the union's depiction of the new metric as a "suggestion" and saying the proposal was something that had been agreed to by the Bee and the union in prior conversations.
"We are proposing metrics that measure readership and engagement to better serve our communities," Gustus wrote in a series of tweets, adding that the proposal.
Like other newspaper companies, McClatchy has struggled over the last two decades to come to terms with an evolving industry where consumers are ditching the printed edition in favor of cheaper, more-accessible news coverage online. At the start of this consumer shift, McClatchy ignored warning signs that its print advertisement revenue was on the decline as consumers placed their classified ads on sites like Craigslist and businesses moved their cash to hyperfocused digital ad platforms operated by Google and Facebook.
In 2006, McClatchy paid $4.5 billion in cash for rival newspaper chain Knight Ridder on the assumption that if the newspaper chain grew larger, it would be too big to fail. It was an audacious move that soon proved extremely problematic for the company as ad revenue continued to decline and its pension obligation to veteran employees grew larger.
From 2016 to 2019, McClatchy tried various tactics to cut costs while generating revenue. It invested millions of dollars in a virtual reality lab — a gamble that ultimately didn't pay off. It reduced the number of publication days for its newspapers in Fresno, Modesto and elsewhere. As a last-ditch effort, it created a not-for-profit organization within a few of its newsrooms to solicit community donations to keep its local journalism going.
None of those efforts moved the needle, and in February, McClatchy filed for bankruptcy protection. The move ended the McClatchy family's ownership of the newspaper. Chatham Asset Management, the parent company of the National Enquirer, acquired the Bee and other McClatchy newspapers in July.
Since the acquisition, McClatchy announced its intention to expand the not-for-profit journalism model to other newsrooms. The Bee subsequently added a handful of community journalists whose salaries are paid for through the not-for-profit lab it established last year.
But there have also been signs that McClatchy's turnaround is not happening fast enough: Last month, Gustus announced the Bee would move out of its 2100 Q Street headquarters where the newspaper has been edited, designed, published and printed for decades in favor of remote working opportunities for the foreseeable future.
In the article announcing the move, Gustus said the Bee had signed on 30,000 subscribers — a fraction of the 4 million people who work and live in the greater Sacramento region and other parts of the Bee's coverage area. The company's overall goal is to double the number of subscribers, Gustus wrote.
Compass, Gustus said in her tweets, is "one small component of a comprehensive performance management process that measures performance to goals."
"If we are to understand what our readers want and need, we must know what the data is telling us," Gustus said.
That explanation didn't sit well with the Bee's union.
"[Under the proposal,] reviews determine pay adjustment each year," the Bee's union said in a follow-up tweet of its own. "In plain English, that is tying page views to pay. This is the first time audience metrics would contractually affect our pay."
In a separate interview with the Sacramento Business Journal on Monday, the Bee's union chairwoman Theresa Clift said reporters at the newspaper were on board with raising the number of subscribers and digital readership but didn't want online performance to factor into salary or job layoff decisions. Her letter on Monday said other newspapers, including those that compete directly with the Bee, did not use online performance of a news article as a metric to gauge whether a reporter is an asset to their newsroom.
If the Bee goes through with Compass, Clift warned, "it would hurt the Bee's ability to hire good reporters and would play a significant role in [their] decision about whether to leave for other publications."
"None of us got into this business to get rich," Clift wrote. "We do the work, and we work hard, because we think it's important."